Arianis • Stock & Production Tracker
Inventory and production management software
Stock & Production Tracker
Production traceability is a regulatory issue for Life Sciences laboratories and industries: Biotechnologies, Medical Devices, Agri-food, etc.
Arianis was created by Cerebellis to meet the essential traceability needs of small or large teams who wish to guarantee and control the quality of their activities.

Manage inventory
Reference your tools and consumables and find them quickly.

Manage production
Follow the progress, validation, and details of your productions.

Supervise the activity
View the status of stocks and production and receive alerts by email.
The entire production chain
Manage your productions, whether or not they are subject to controls. From supplier references to shipments: tools, consumables, production recipes, consumption history, finished products.
Modules and Features
A collaborative system for daily monitoring of consumption, inventory, production and quality controls.
Equipment
Closely monitor the life cycle of the equipment. Ensure the maintenance of your tools and instruments.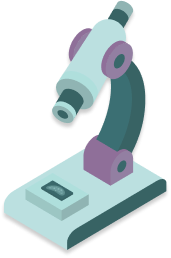 Consumables
Maintain a careful inventory of stock. Avoid shortages, overstocks and waste.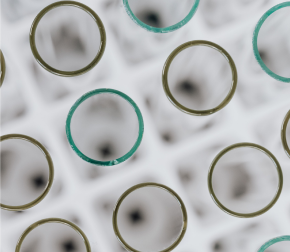 Protocols
Define your production recipes. Specify the necessary tools and consumables, and quality control authorizations.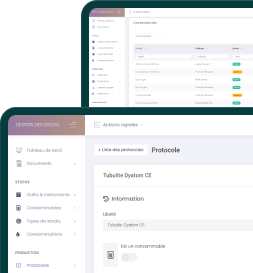 Productions
Fill in your productions sheets on the basis of the defined protocols. Take advantage of pre-labeling and paper sheets for the workshop or lab bench. Justify any deviations.
Quality controls
The platform makes it possible to impose the validation of production, and to document rejections or product conformities. It is possible to define protocols not subject to validation or quality control.
Shipments
Keep track of where your productions have been shipped.
Configurable Platform
Logo & contact details

Internal numbering

Printable labels

Arianis is configured to adapt to your business. The documents generated are in your name. Your stock and production sheets are automatically numbered according to your rules. Label formats and contents can be personalized. The units of measurement are adjustable to your activity. Finally, configure your locations yourself to manage your stock locations and facilitate your inventories.
Advantages

Traceability
Everything entered is tracked
Find the origin or destination of any element across the entire chain. A dedicated module allows you to browse production traceability: find, for example, which products were made with a given device, or which tools or consumables were used for a given product. This module facilitates the identification of anomalies in production, or batch recall.
A complete audit trail also allows you to find the entire history of data entries or modifications in all categories of records.

Alerts and Dashboards
Keep a permanent eye on the status of stocks and consumption
Expiry of consumables
Metrology of tools and instruments
Stocks with low quantities
Weekly emails summarize upcoming expiry dates or metrology controls, as well as low quantity stocks.

Document management
Store, Share, Validate, Export
Record your production sheets, validations and compliance checks
Load evidences or useful documentation into the platform
Take advantage of a space dedicated to sharing documents to communicate your business files (via a version approval interface)
Export your data in CSV format

Ergonomic design
Simple and responsive interface
The interface is multi-platform: connect to the platform from your computer or smartphone. The design is clean, intuitive, access to Arianis is simple and without configuring your hardware. Stock and product labels can be scanned with your smartphone or webcam: open the sheets quickly, or declare stock consumption as you go.

Security
Access rights, backups and peace of mind
Network connections are encrypted using the SSL/TLS protocol
Your Arianis instance is dedicated to you: your database and settings are hosted in a space isolated from other clients
Your data is also secured with respect for the principles of integrity, confidentiality, and availability
The platform is built on a "closed-source" development framework that has been subject to several security audits
User account management is tied to mandatory authentication: at connection and for electronic signatures
Rights management makes it possible to distinguish different authorization levels for access to modules and functionalities
Prices
Arianis is a project led by a team of several people, who are invested in the quality and longevity of the application. Our prices are defined with accessibility in mind while taking into account these necessary long-term investments.
1 to 5 users
Small teams and Startups
3 500 € HT/an
6 to 10 users
Mid-size teams
7 000 € HT/an
More than 10 users
Large, varied or complex productions
10 000 € HT/an
Services included for all offers:

Daily backups

Annual updates

Initial training

Functional support

Customization
(logo, business logic, etc.)